About Us - Experience With Building Draft Horse Harnesses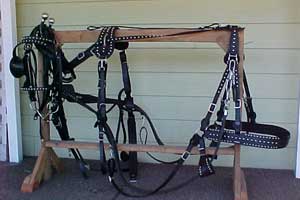 Welcome to Andrus's Big Sky Leatherworks. We are Randy and Jan Andrus. Randy first became familiar with draft horse harnesses while he still in high school. Back then, his father made a deal on some draft horses and a collection of leather straps and hardware. Randy was given the job of putting harnesses together for an equine team from the pile of materials.
Using these horses and the harness design he built, Randy and his father fed cattle until Randy left home to become a horse logger. He enjoyed successful horse logging for 9 years in the Mt. Hood area and the Olympic Peninsula. During this period of his career, he often had to teach himself to repair his own harnesses.
Even with the decline of the logging industry, we still wanted to use draft horses, therefore, we decided to do so by taking advantage of the tourist trade in Port Townsend, WA. We started a carriage company, giving historical tours of the town with two Percheron mares and a Vis-A-Vis Carriage.
Randy realized how much he enjoys working with leather and building harnesses for himself and his friends, so he started a small harness shop at home. We opened our Roseburg, Oregon harness shop in 2002:Andrus Custom Sewing and Leatherworks. Now called Andrus's Big Sky Leatherworks, we specialize in doing alterations and sewing patches and emblems on leather garments, as well as washing and repairing over 200 horse blankets a year. However, we can do anything and everything with our leather products and horse supplies.
As the next step in growing our business, we started going to horse auctions and shows as a vendor to get the word out and build our brand. In 2012, we took over Big Sky Leatherworks, a business out of Billings, Montana. We felt we could further develop our harness business by doing more horse shows, so in 2013, we accepted the invitation from several of our customers in Idaho and moved again to Jerome. So here we are--we feel this area will be very good for family and our business.
Testimonials
Randy. You guys definitely went the extra mile for me on this bridge band, be assured that even though my needs are very small, I appreciate this and whenever I get a chance, I will send people your way.
Thanks again & good job.
Sincerely, Mark Gluth